I missed my Monday deadline, sorry. But I did do a project last week! And it's super cute. I did these Neon Shoes DIY:
I had a pair of brown, strappy heels that I thought would work. Here they are: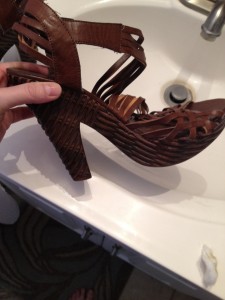 I decided to go with the pink and yellow, since I liked it. But then changed my mind. The heels/platform had a textured surface like a basket weave. I thought it would look like an easter basket. So I decided electric blue. I still left a pop of hot pink in there though.
The details: The texture made painting difficult. The electric blue polish was older and did not go on as smooth. The new yellow polish was awesome, even with the texture. Also, I had to do quite a few more coats to get all the little nooks and crannies, which made the surface much gunkier. However, it was a fun project, and I love the colors! But when I look up close and see all the flaws I'm not terribly happy with the results. I was going to just get rid of them because they are not very comfy anyway. But then I was getting ready for dinner at Zemam's and feeling a little sassy. So I grabbed them out of the give-away pile and tried one on:
(disclaimer: It's a crappy pic and my room is messy)
They actually weren't as uncomfortable when I'm sitting for long periods of time, so they are keepers for now :)