Why, hello there, Grandma Dowling. Oh wait, that's me. My grandma did wear a pair of glasses like those, though.
So this dress screamed '90's to me. It has shoulder pads, buttons all the way down, elastic waist, and a longer length. However, Phil saw it more like a 1950's dress, so he made me dress up for this pic and did a little photoshoppage. I really do own those glasses. It's hard to tell the design from above, so here's a close up. This is what grabbed me: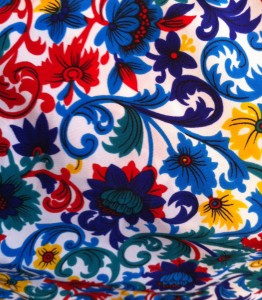 Love the colors and the flowers!
I first removed the shoulder pads. Then I turned the neckline in a V. Next I removed the sleeves and gathered the shoulders into a cinch. Then I hemmed up the length. All in all, a very simply remake.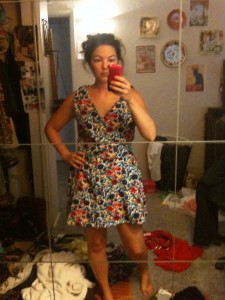 Phil wasn't around to take a pic for me. My huge mirror tiles from Ikea came in handy.
I wore it to Rosa's baby shower on Saturday and received tons of compliments. It was a lovely dress for a lovely shower.
<will insert pic with my girls from the shower here>