My goal is to do my blog post on Mondays. Let's pretend it's last Monday, ok? I definitely was NOT ignoring my goal and playing Skyrim and sipping tea all day while it's rained/snowed outside.
So my project of the week is actually three different projects. Three very simple ones that were on my list. I also think that doing three in a week is building up my karma for a future week where I'm too busy or uninspired.
Simple project #1:
I saw these cute ballet flats on Free People and thought, "Easy DIY!". Mine turned out close, but not exact. I need to tweek the ribbons a bit still, but they are still cute!
It was a simple as buying black and nude ribbon (the nude looks a little golden in this pic, but it's really not) and gluing them on my black ballet flats. I also took the little black bows off the front of the shoes after this pic. I wore them to dinner that night at Zemam's with Mike and Bri. We have made this delicious Ethiopian and BYOW restaurant a monthly event.
Simple Project #2:
Obviously, I have tons of burlap laying around from my purses. It's so trendy right now to do all kinds of things with it. My favorites I've seen though are these planters, tulip root balls, and cute curtain-ring redo. Another idea I came across was an earring holder. So I decided to do that but when I finished it was too pretty to cover with earrings. Mostly because of the awesome frame (which I already had laying around, neglected). So I brought it into Phil's simple, modernistic office (imo it's BARE and needs color!!!), and he agreed it would look nice above the keyboard (the musical kind). He rarely agrees to let me put something in there. So there is hangs. I still want to make one for my earrings, though.
Simple Project #3: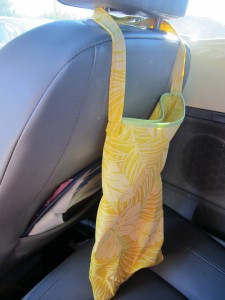 A pretty, matching trash bag for my car. Ok, I know this may not be a simple project for everyone. But since I have a sewing room all set up with all kinds of fabric, thread, bias tape, etc it was simple for me. This fabric is one of my faves that I brought back from Hawaii last year. I followed instructions from this awesome book I found called One Yard Wonders.
Ok that wraps up last week. I'm still working on my big, secret project. I just don't want to show it off until it all complete and installed. Hint: it has something to do with my garden :) Stay tuned for Monday's post.