Exactly 365 days ago, we were in China. Specifically in Jianjiagang. Meanwhile, back home, Beebop was suffering from major migraines. Communication back home was not often, and so we didn't know what was going on. I think we found out she was getting an MRI towards the end of our trip. I think we got home the day after her MRI. We were in a haze of extreme jet lag when we found out about the tumor. It was world-stopping.
There was a waiting period (I don't remember how long) before the surgery. Here are some pics from either during that time or while waiting for the results of the MRI.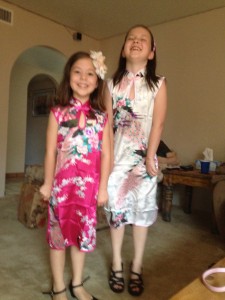 (Modeling their dresses from China. Yes, it's blurry but it captures their happiness so perfectly).
(Playing behind Nina's couch.)
(Except for some shadows under her eyes, who could tell?)
Well, fast forward through a major brain surgery; endless MRI's; infections; multiple hospital stays; unbearable pain that she bore with strength, courage and grace; radiation therapy; months and months of nausea and headaches; missing many days of school and ballet rehearsal; and so much more that I couldn't possibly understand.
It's a year later. She is 9 years old, about to turn 10. The family attended her and Keek's dance recital on May 18th. We sat with our jaws dropped as we watched her perform. She was AMAZING! Yes, we have family bias. But an unbiased opinion would still say she was the best in her group. She had, what I call, the triple threat.
1) She is a smartie. Beebop knew her dance routines to perfection. There was never a moment of hesitation. She anticipated every move.
2) She is a natural dancer. She has rhythm, poise and grace. That girl can shake her booty!
3) She is a performer. Anyone who knows Beebop knows she isn't shy. She blossoms in attention. She had amazing stage presence.
Now, I have to give some praises to Keeks as well. She LOVES ballet with all her heart. She is graceful, and thoughtful. She performed beautifully with her shy, sweet smile. She was the most adorable person on stage in her little fru-fru, tu-tu costumes (ok, that was a biased statement). We could not stop squealing at her cuteness while she performed!
And after the concert, they both had the most beautiful glow. So did Mom and Dad.
This amazing family, living in the joy of the moment.
This amazing mama, who has endured what no mama should have to endure. This mama, who loves her girls to pieces.
This amazing dad, who has been the rock of his family. This dad, who has provided, withstood and sacrificed. Who shouldered the burdens of his family with strength.
This amazing sister, who is so silly sometimes it's hard to get a focused shot! Who worried and prayed for her sister. Who sweetly and strongly stood by her sister. Who brought rays of sunshine into our dark days.
This amazing aunt, who provided solace to the family through her medical training, her love, and her thoughtfulness. Who took care of Keeks through all the hospital stays, and loved her as her own. All while taking care of her family too!
These amazing Grandparents, who spent endless hours at the hospital. Who did whatever they could to be there for the family. Who cheered up, soothed, comforted and spoiled Beebop and Keeks.
(unpictured: Aunt S, who was there but was camera shy! Snagged this pic from Aunt K's blog post about the same thing!)
This amazing aunt, who was there for S, as only a sister could be. Who used her creativity and humor to console the family. Who loved on them with all her heart.
And this Aunt, who is SO proud of her nieces!
These were the family at the recital, but there are others equally important. Uncle Justin, Uncle Phil, Jeff, Mick, Dad, Rae, and Uncle Tim – who all loved and supported just as much from near or far.
We face the future with faith, hope and love. We got each other's backs!
More adorable pics here.