So there's been a lull in the kitchen work, but never fear! I'm back on track! I (finally) finished the backsplash. I have a tendency to start things and not finish them. I finally got sick of looking at the partly done backsplash. The main thing that was keeping me was the cutting. I had to cut the tiles perfectly to fit into those weird places. I finally thought of a solution: I cut out squares of paper the same size and used those to test first. It worked!
Tada!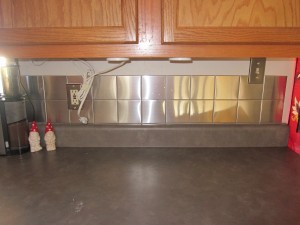 d
Dratz. You can see water spots. Oh well. That's what a backsplash is for, right?
Left of sink
I think this spot is my favorite. I could just stand and stare at its shininess all day long.
So that concludes the backsplash project. Total amount of time? Maybe 2 hours. Total amount spent? ~$70 (includes matching switch plates). We are SUPER happy with the results!
Next up, Part 3. Here's a teaser:
Can you tell what's new? Super excited about these!!!