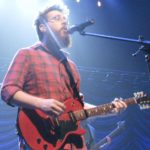 Email: philipacamaniac@gmail.com
Skype: philipacamaniac
Also see Twitter, Facebook, Instagram
Greetings Earthlings! I'm a musician/artist/engineer/developer, and this is my blog. Topics can range anywhere from Google acquisitions, to the latest Apple news, Linux reviews, music, or tips for writing successful songs. Or maybe just a hip Instagram. There are also plenty of gardening, fashion, gourmet cooking and otherwise female-friendly posts from my other half, Jenny. In other words, it's all over the map. Sit back, hook up to the feed, and enjoy reading.
Music
I occasionally record music with Jenny that usually features an indie-folkish feel combined with some retropop sounds. I also play guitar and keyboard regularly. My current setup includes the ever-amazing Fractal AX8, a delicious Mesa Maverick 2×12, a '97 Gibson Les Paul Special, an '06 American Tele Deluxe, a PT-Pro full of goodies, Propellerhead Reason with a Nektar Panorama 49 and an M-Audio Pro Keys 88, and an Apogee Duet through an iMac. Some samples of our recent music:
Indie-folkish-retropop
Electronic
Web Development
I'm currently employed by Pantano Christian Church in Tucson, AZ as the Technical Director (all things production / audio / visual). I've been at Pantano since 2005, where I've also served as audio engineer, technical director, and worship leader. I also do some development and/or design for various non-profit organizations.
Organizations I've worked with recently:
Arizona Community Estates
Writing
I'm working on a science fiction novel. Here's the latest "back cover" synopsis:
In a not too distant future, humans have transcended to post-humanity with advances in bionics and genetic modification, and they have breached the technological Singularity. But, this posthuman society comes at a high price: so-called "oldhumans" inhabit the far reaches of the earth. They are the descendants of underdeveloped and third world countries, who fell further into poverty without the means to keep up with posthuman advances.

Walter is an overzealous posthuman ex-cop from New Angeles. Esbon is an oldhuman from the mountains of Peru, who calls himself an Incan. Esbon's striking blue eyes and pale skin hardly fit in with the local population, and Walter soon discovers that they share an unmodified human gene – a gene that could be the key to unlocking posthumanity's darkest secret.
Qualifications and Skills:
Sound Engineering: Front-of-house and monitor mixing (including digital console programming); experience with many analog and digital consoles, including Midas, Soundcraft, Yamaha, Digidesign, Stagetec, Studer, and Mackie.
Specialty: Yamaha CL consoles, Behringer/Midas X/M consoles
Audio Production: Logic Pro Studio
Music Production: Reason, Ableton Live
Video Production: Final Cut Studio
Specialty: Panasonic BlackMagic switchers and capture devices
Graphic Design: Adobe Creative Suite
Web Design/Development: HTML5, CSS3, PHP5, MySQL, and Javascript (jQuery spec)
CMS Systems: WordPress (templates/themes, custom plugins, backend customization)
System Administration: Mac OS X, GNU/Linux, Windows
Network Administration: Cisco routers/switches; Linux, Mac and Windows servers (design and implementation); most wireless equipment
Certifications:
CompTIA A+
CompTIA Network+