Day 22: Come On Ride the Train
(Reference to a good ol' 90's song ;))
Our train was at 10am, and not far from the hotel. So we were able to sleep in and eat breakfast. We didn't sleep very well at this hotel though. That made for 3 nights in a row without getting rest, and we were pretty tired. We got a little Vitamin C at the train station to try and boost things a little.
All aboard!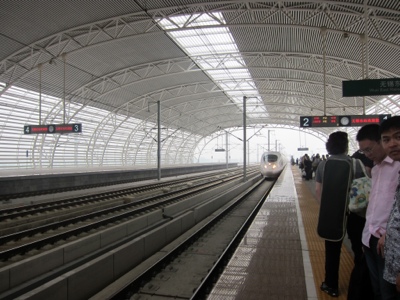 It was another 6 hour train ride. This was an actual bullet train, though! I can't remember how fast it went, but it was fast!
The scenery was different on this trip. We were traveling north, the most north we had been yet. It became clear, blue skies (yay!), less smog, and lots of agriculture.
We mostly read and slept. Again, it was a very comfy method of travel. I wish all of our travel was by train!
I guess I should mention our next city ;) Qingdao (ching dow). Here's the train station:
Here's us walking to our bus and some pics along the way. Again, the blue skies were much appreciated!
Our trip to the hotel was across a big city with lots of traffic, so about an hour. We were really confused for a minute when we arrived, because we were at the actual theater. But then we look closely and …
This theater had a hotel connected! And man, was it a nice hotel. Here's a pic of the lobby/bar area. This pic didn't focus right and I didn't realize that until just now. Oops. Oh well. You can still gather what it looks like, though.
The hallways were trippy. It was like looking down a corridor of mirrors.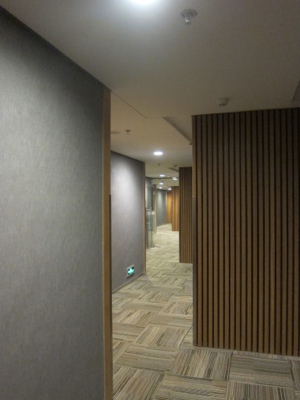 Our room was great. Very zen.
We were on the 18th floor. The view was beautiful. We could see the mountains!
Dinner was next on the menu (pun intended heehee). It was buffet style, and tasty. Plenty of options for us herbivores :) After dinner a group of us walked to …

… the beach. That's right. THE BEACH!! Oh, did I not mention we were on the coast? Omg, so happy! Only a 5 minute walk, too. Could life get any better?! We had a great time. It was so relaxing and rejuvenating. We stayed until past sunset (although you couldn't see it because of the clouds).
On our walk back we made a beeline to the places across from the hotel. Our choices were …
A German Bar/restaurant
A wine bar and next to another restaurant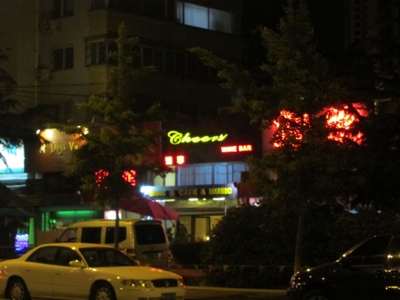 There was also a convenient store, a pizza place, and a coffee shop, named "My Vintage Romance". Awesome.
We decided to try the German place first. We got a beer, ironically Tsingdao. Sidenote. Tsingdao is pronounced the same way as the city, and not by coincidence. This is where the Tsingdao brewery is! Anyway, we also got a pretzel, some french fries and some sausage (Tristan, not us). It was delish. Then we moved over to Cheers and had some wine. Then we ordered a quesadilla from Deja Vu, the Western restaurant next door. Real cheese. Mmmmmmmmmm. Enough said.
We only had to walk across the street to get back to our hotel. Fabulous.